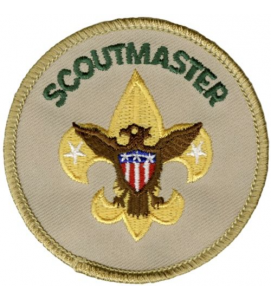 Congratulations Troop 31 on our first 100 years!!!!
Before we begin our well-deserved Centennial celebrations, it is appropriate to look back at what 100 years of Scouting at Ft Monroe means.  While Boy Scouts of America is not a military organization, since its inception in 1918, Troop 31 has been intertwined with military service by the very nature of being located within an Army post for 93 years.  It is safe to say that most Troop 31 Scouts had military parents.  Formed during World War I, and enduring World War II, the Korean War, Vietnam War, Kosovo War, Gulf War, The Global War on Terrorism in Afghanistan and Iraq, as well as many other 'small scale' military actions, and countless deployments of Troop mothers and fathers, Troop 31 was a second home for countless boys of the Ft Monroe community.  Today is no different.  Many of our current Scouts have endured multiple times with a parent either deployed with the military or with other industries.  Case in point, I am writing this from Africa.  This history and relationship is relevant because both the adult Scouters and Scouts themselves have a long history of stepping in to help those boys while they are missing their parents.  
In my six years involved in Boy Scouts, I have not met a single former Boy Scout that did not believe Scouts had a positive influence on his life.  I am not aware of any statistics regarding how many boys were Scouts in Troop 31, but we do have records of 177 Scouts that have earned the rank of Eagle Scout within the Troop, and undoubtedly many more earned this rank.  I am honored and extremely proud to have the opportunity to lead Troop 31 as we embark on our Centennial and look forward to the future development of the Moat Monsters!
2018 and a new Scoutmaster will bring some changes to the Troop.  First and foremost, I look to getting back to some of the basics.  I am currently refining the Boy Scout developed Introduction to Leadership Skills for Troops (ILST) course for the senior Scouts in the Troop.  This training will better define the roles and responsibilities of the different leadership positions of the Scouts.  More importantly, it will introduce leadership skills and techniques to help them succeed in their roles.
Additionally, I am working on some planning tools for the Troop to help prepare for upcoming events, be it regular meetings, planning conferences, campouts, etc…
Troop 31 will be advancing in the technological realm as well.  We have taken a look 'under the hood' of our website and are making some big improvements thanks to Mr. Struhs (Check it out.  Same address).  At the same time, BSA is in the process of transitioning the troop advancement software to a new program.  For many years, predating my time in the troop, Mr. Blyth has spent countless hours tracking and inputting every Scouts progress through the troop, tallying every advancement, merit badge, campout, etc…  The new software is web based, and should be viewable by all of the Scouts and parents.  It will track each individual advancement requirement, mirroring the boys paper Scout Handbook.  This will help Patrol Leaders, Patrol Guides, and adult Scouters more efficiently tailor training to those that need it.
I am very proud of our current Troop 31 Scouts and believe that the Moat Monsters that came before them will be proud to have this fine group of young men represent them at this year's Centennial celebrations!  The Scouts, Chartering Organizations, Scout Huts, and Scoutmasters have changed over the past 100 years, but one constant has bound us as a group for a century; the desire to live by the Scout Oath, Law, Slogan, and Motto everyday of our lives.
Keep up the GREAT work Moat Monsters!!!!
Yours in Scouting,
Mr. Salka
Troop 31 Scoutmaster